I love the Island Vibes that I have on the Islands I live on.  Yep I said islands as in plural.  If you don't know me very well yet when you watch my videos I often mention something about where I live.  In warm summer months I live on a very unique island in Michigan just outside of Detroit that is only accessible by ferry.  I also have the luxury of watching many shipping freighters majestic slide by. When it gets cold and frozen I migrate south to another island in sunny Florida.  Island life is not for the feint at heart I can tell you that.  There are a multitude of lifestyle changes I can assure you.  But none the less I love both of the islands and each has there very own unique Island Vibe!
Stampin' Up has also provided an Island Vibe and did you know you can only get it for FREE!
With the 2022 Sale-a-Bration offering during January and February you can select this vibey set with any qualifying purchase.
The What
I partnered this set with my favorite suite from the January-June Mini Catalog called Artfully Composed. Which I also used in the Artfully Layered Peeks Out card which has a totally different feel.
The How
All three of the island images in this set really do have some artistic vibes!  The Artfully Composed Designer Paper also adds some vibey color to the background of the card. I then used my Stampin' Write Markers to color the image so I could get different colors where I wanted them.
I've also accented the image with a couple of the  accent die cuts from the Artfully Layered Bundle.  Then finished it off with a greeting and a bit of White Frayed Ribbon.
The WOW
The piece de la resistance are the Faux Sea Glass Shapes.  I am very impressed with the colors and the shapes of these.  They look just like little pieces of broken glass
Click on any image of this project to add the available products to your shopping care to re-create this project!
Download Project Sheet
If you are the kind of person that wants to stamp along with my and make this card I've created a step-by-step video just for you!!
Thank you for stopping by it means the world to me.
Love this project?  Here are the items used so that you may re-create this project or alter to your own idea…click on any of the images below to add them to your shopping cart.
If you are in the United States and wish to order you stamping supplies from my online store and have the products shipped right to your door CLICK HERE.  Don't forget to add the HOST CODE of month to take advantage of the monthly and other rewards!  You can find this in the sidebar.
Prefer me to place your order for you?  No worries just call or text me at 586-915-7301.  I am happy to do that for you!
Extra Bits & Pieces
Mark Your Calendar
Join me live on YouTube on Thursday, January 27th.  I will be sharing an adorable card using the Hedgehog Stamp Set and Builder Punch.  You don't want to miss it!
Can't make it live, no worries…You can catch the replay anytime. 
Subscribe to my YouTube Channel
Specials!
Reminder:  When you ORDER $150+   DO NOT ADD THE HOST CODE.  You will earn Stampin' Rewards PLUS you will automatically qualify for the Monthly Host Code Special when you place your online order with me.
---
It's that time of year again where you can get FREE product.  Yep it's not only free but Exclusive too!  Our Sale-a-Bration sale is going on now thru the end of February and you get to select a FREE item with each $50 ordered.  That means if you order $100 you get TWO free items and so on.   If you get to $300 you will not only get SIX free items but an exclusive Hostess Stamp Set, Calming Camellia!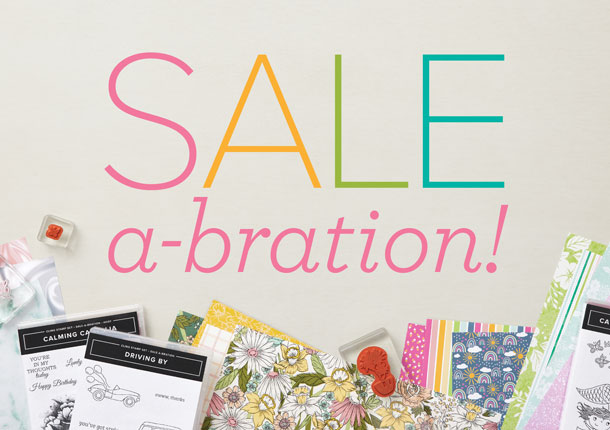 ---
Retreats!
Have you ever been to one of my retreats?  If so you already know how fun they are.  If not then be sure to check it out!  It is an all about YOU weekend that you don't want to miss!!
March 25-27, 2022